Keeping Eastern Connecticut Warm Since 1947
In 1947, after returning home from World War II, Edward Waskiewicz and his wife, Lillian, purchased a shut down gas station on Route 14 in Canterbury.  It was here, where they pumped gas and performed automobile repairs, that Ed's Garage was born. Ed started to deliver fuel oil to several customers, in some instances carrying buckets of oil to second and third floor apartments himself. The fuel oil business began to grow steadily causing Ed to give up the repair business, except for working on his own vehicles.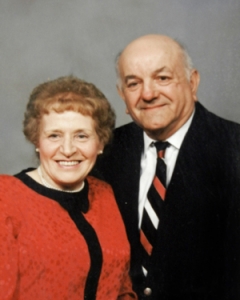 Aside from running the garage, Ed and Lil were very involved in town affairs. Ed served as First Selectman of Canterbury for three terms between 1963 and 1969. Wanting to give back to the town, Ed did his job as First Selectman without taking any wages. While in office, he was active in the construction of several roads in town. Along with the help of several other Canterbury businessmen, Buntz, Cory, Howe and Kitt Roads were built. Ed was also a Charter Member of the Canterbury Volunteer Fire Company, serving as an assistant Chief. Lil monitored the fire department's phone alarm system from the Ed's Garage office, receiving fire reports and calling firemen one by one.
Lil was active in establishing St. Augustine Catholic Church in Canterbury. Construction began on the church in spring of 1968 and was opened that fall. At St. Augustine's she served as the General Chairperson of the Parish Development Program. In addition, she served on the Parish council and Finance council. Over the years she held all four offices of the Ladies Guild. Ed and Lil were well known for their generosity. Lil actively raised money for local hospitals and charities.  As if they weren't busy enough, they also operated Mr. Ed's Stables. Here, they raised King Quarter horses and sponsored AQHA Horse shows to benefit St. Augustine's Church, the Canterbury Volunteer Fire Department and many other local organizations. After many years and championships with their prize horses, most notably Mr. Wimpy Leo, they ultimately decided to retire from the horse business. In the early 1970's, Mr. Ed's Stables was transformed into Ed's sand and gravel mining location.
Today, their children, Ed & Penny, along with other second and third generation family members, run the business. Carrying on their tradition for honest, reliable service and community involvement, Ed's Garage continues to provide heating services to homes and businesses throughout Windham and New London Counties. In addition to delivering fuel oil and servicing burners,  Ed's also manufactures and delivers top quality sand and crushed stone products. Seventy years later, Ed's is proud to still be a family owned and operated business!